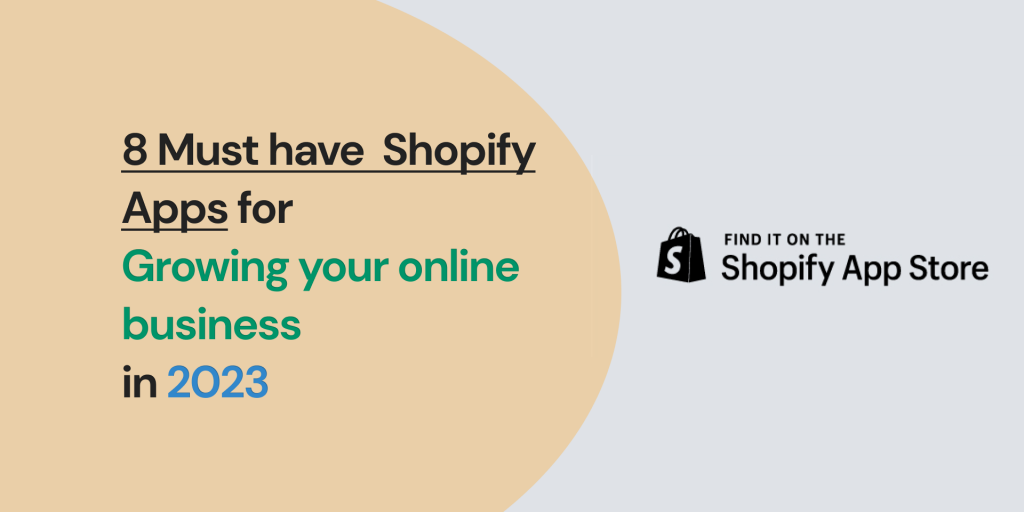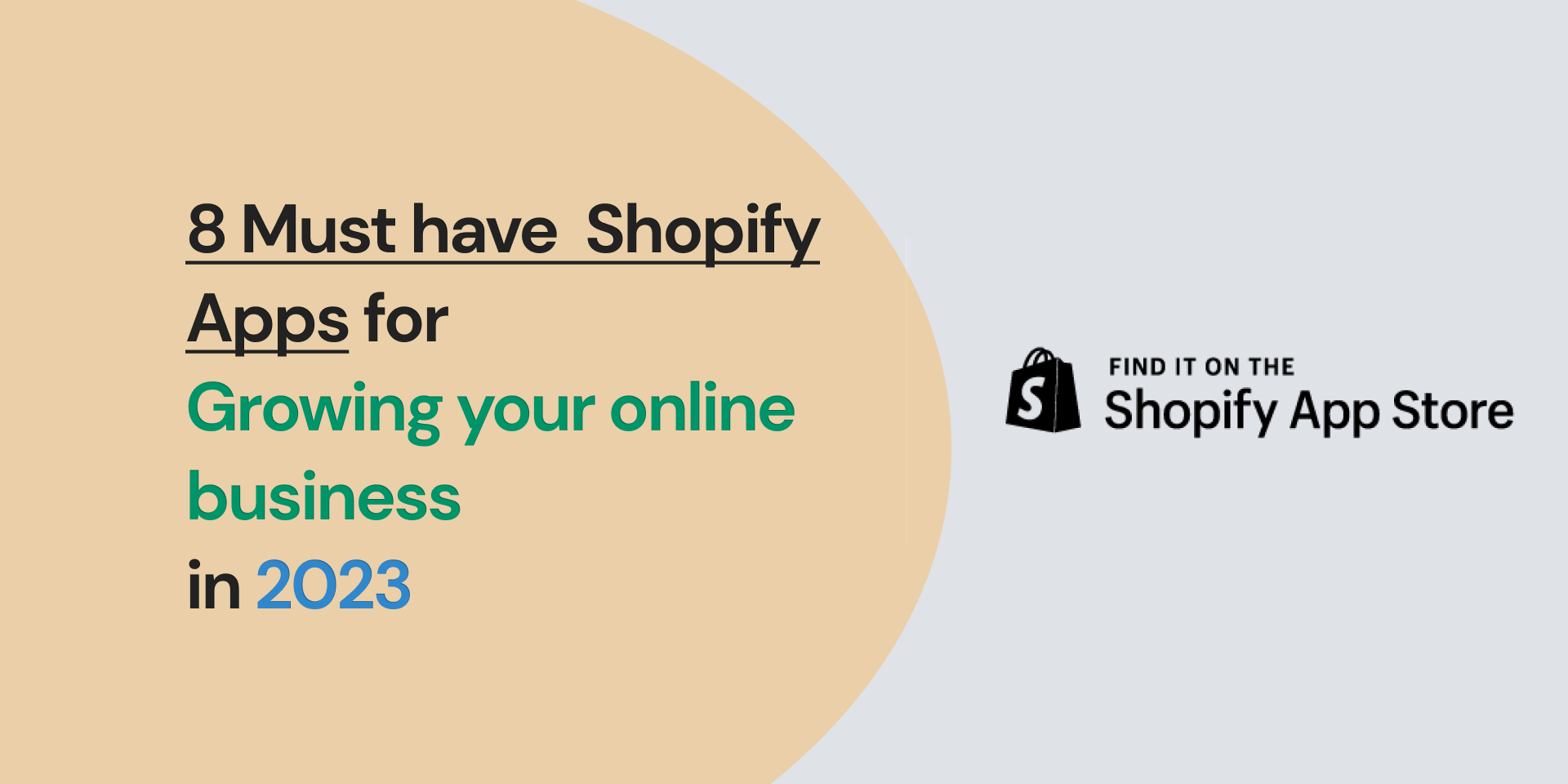 Grow Your Business with the 8 Must-have Shopify Apps in 2023
If you're running an online store, then you know that Shopify is one of the most popular e-commerce platforms available today. One of the key advantages of Shopify is the extensive selection of apps that are available on their app store. However, with so many options to choose from, it can be overwhelming to determine which apps are truly essential for your business. In this article, we'll go over nine must-have Shopify apps across different categories to help you streamline your operations and drive sales.
How to Choose the Right Shopify Apps
When it comes to choosing the right apps for your business, there are several factors to consider. Check the following tips that might help you make the right choice:
Assessing Your Business Needs and Goals
The first step in choosing the right app for your business is to assess your business needs and goals. Ask yourself what you want to achieve with your Shopify store and what features you need to make that happen.
Identifying Gaps in Your Current Workflow
Once you have a clear understanding of your business needs and goals, the next step is to identify gaps in your current workflow. What tasks are taking up too much time or causing inefficiencies? What features are missing that could help improve your business operations?
Researching and Evaluating Apps that Can Address Those Gaps
Once you have identified the gaps in your current workflow, the next step is to research and evaluate apps that can address those gaps. Look for apps that offer the features you need and compare their pricing, user reviews, and integration capabilities.
8 Must-Have Shopify apps 2023
Now that you know how to choose the right apps for your business, let's take a look at some of the must-have Shopify apps in different categories:
DSers for Dropshipping
Dropshipping can be a great way to start an online business without the need for inventory or upfront investment. However, managing orders, tracking shipping, and communicating with suppliers can quickly become time-consuming and overwhelming. That's where DSers comes in – this app allows you to automate your dropshipping business by easily importing products from AliExpress, processing orders in bulk, and tracking shipments. With features like automated tracking number updates and order status syncing, you can save time and focus on growing your business.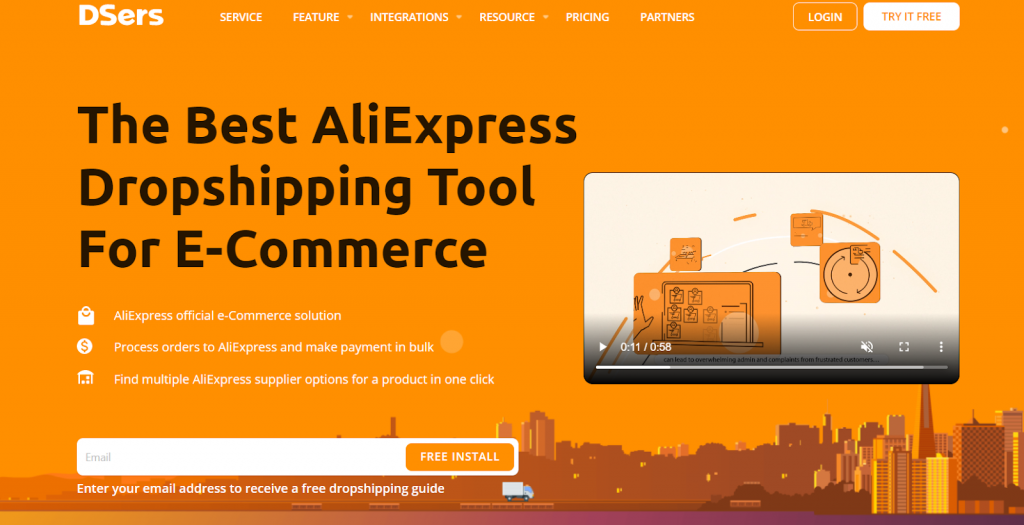 For more features, check here.
NotifyVisitors for Email & SMS Marketing
NotifyVisitors offer an easy-to-use email and sms marketing app for Shopify stores. Its drag-and-drop editor allows you to design email templates as per your campaign requirements. Moreover, for using their email marketing app you don't require any coding knowledge. Its single dashboard offers you complete insights about your email and sms campaigns thus making it feasible for you to manage and track all your campaigns in one place. To give a boost to your email's open rate, you can consider A/B testing to get the best variation for your target audience. Moreover, NotifyVisitors helps you target your audience in a better way by letting you do segmentation and send campaigns as per their behavior and preferences.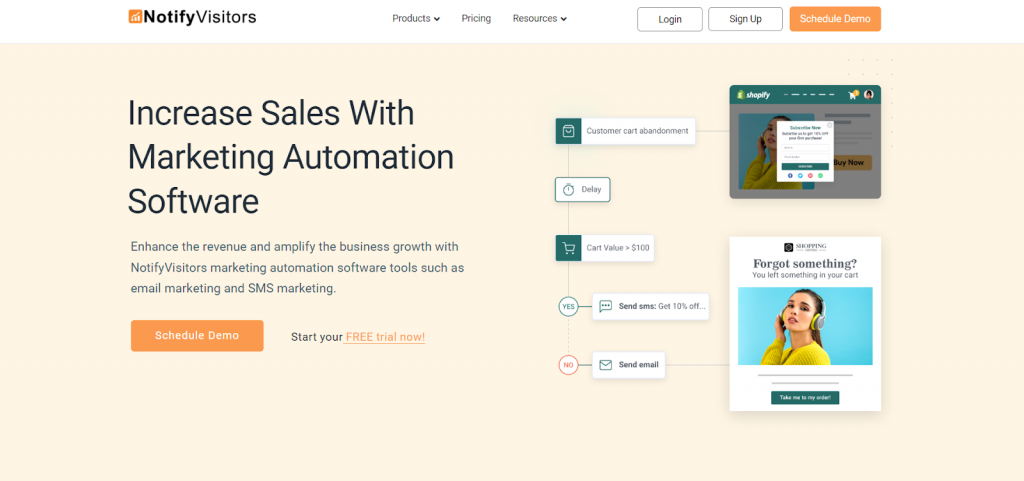 Social Schedular for Social Auto Posts
Social Schedular is a comprehensive solution for automating content posting across Instagram, Facebook, and Twitter, while providing users with the flexibility of custom templates, a hashtag manager, and a calendar planner. With its seamless integration into the Shopify platform, merchants can effortlessly schedule and publish their content, ensuring consistent and timely engagement with their audience. Additionally, the app allows for custom branding, enabling businesses to maintain their unique visual identity and strengthen their brand presence across social media platforms. Read more about this app here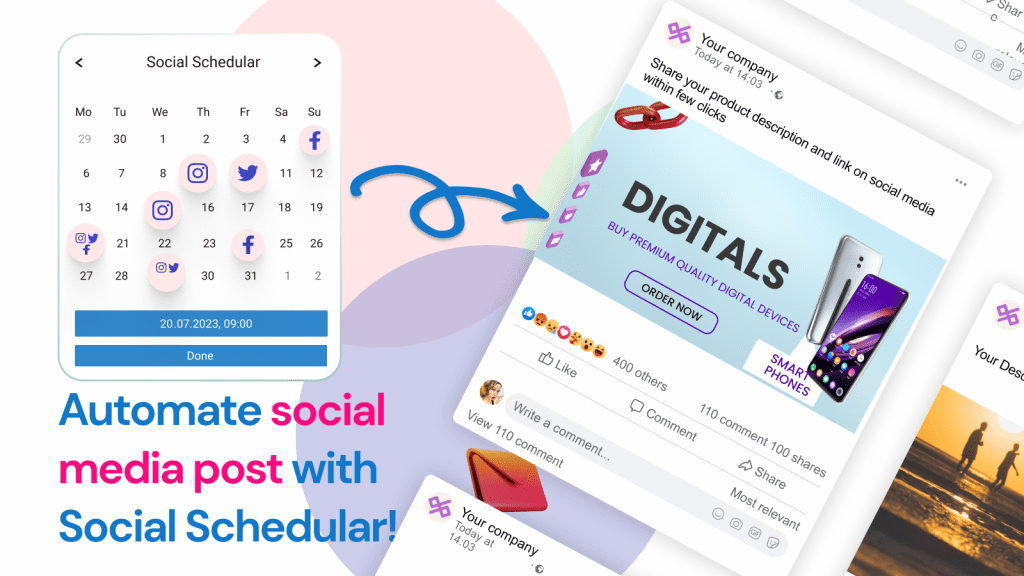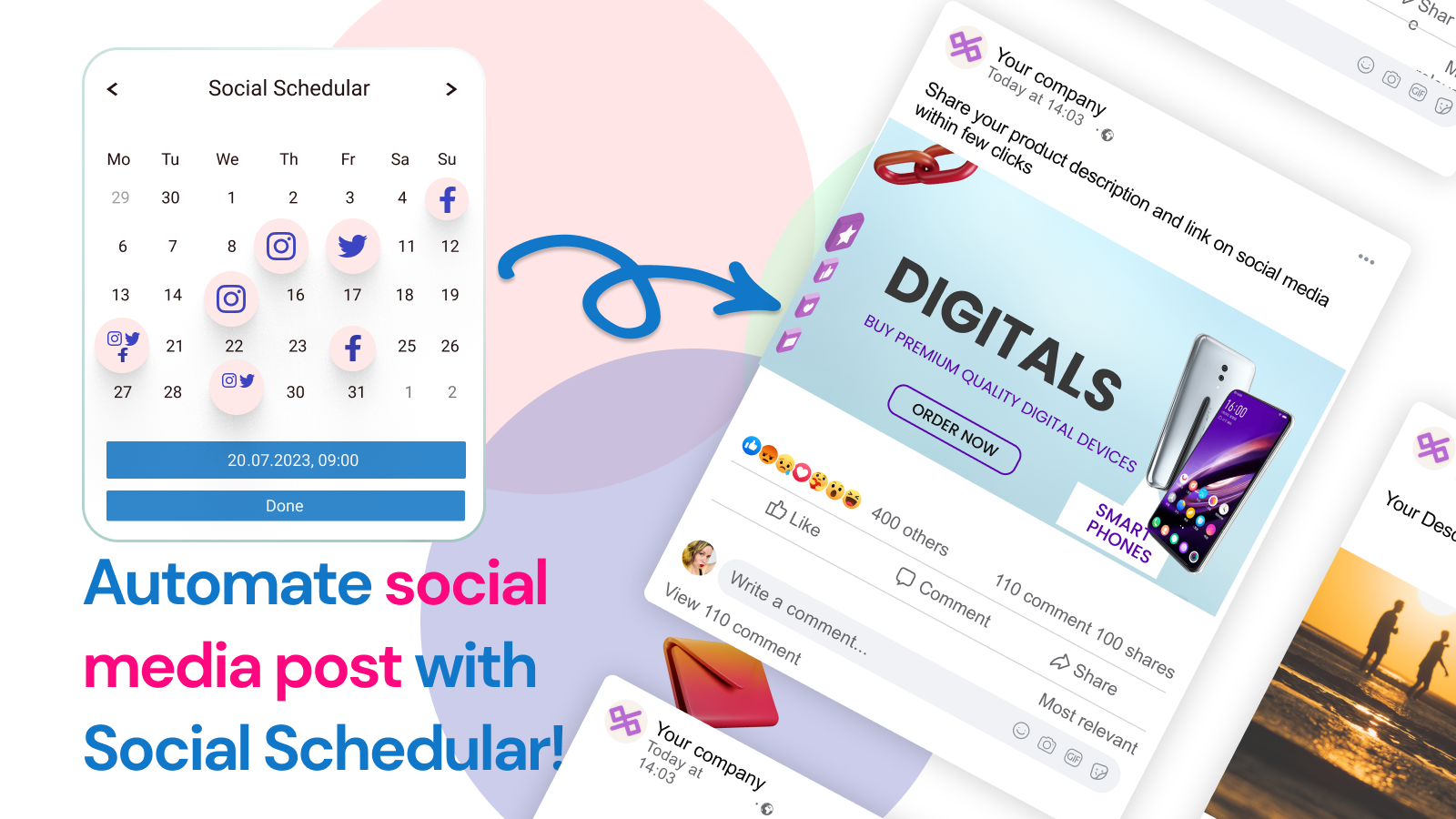 4. NotifyVisitors for Email & SMS Marketing
There is no denying that email marketing remains one of the most effective ways to engage with customers and drive sales. Klaviyo is a powerful email marketing tool that integrates seamlessly with Shopify. With Klaviyo, you can segment your email list based on customer behavior, send targeted campaigns, and track conversions. Additionally, Klaviyo offers robust automation features like abandoned cart recovery, welcome series, and post-purchase follow-up to help you maximize your revenue and customer lifetime value.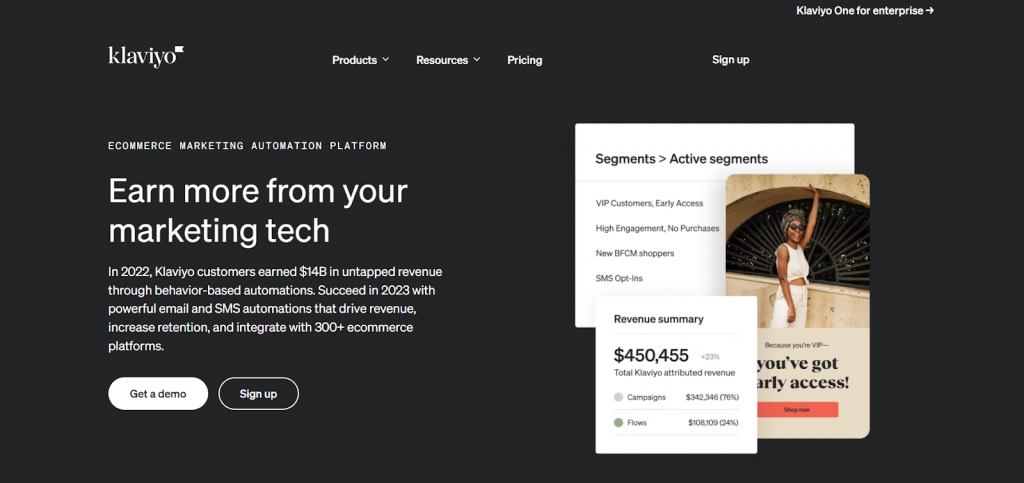 Social proof is a crucial part of building long-term trust with your potential customers. Trustoo.io is a review app that allows you to collect and showcase customer reviews on your website. With features like review request automation and photo reviews, you can easily encourage satisfied customers to leave feedback and increase your credibility with potential buyers. Trustoo.io also offers an SEO-friendly review widget that can improve your search engine rankings and increase click-through rates.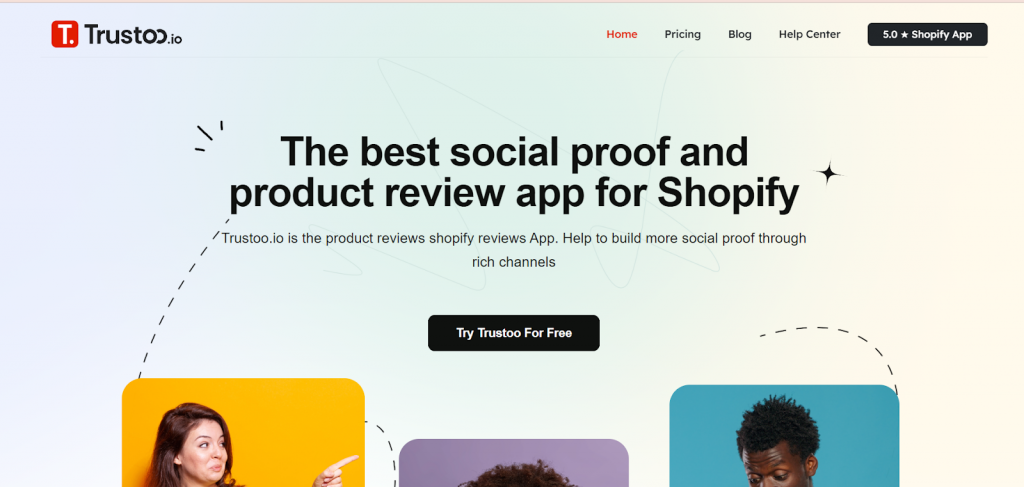 Lucky Orange for A/B Testing
Optimizing your website for conversions is an ongoing process, and A/B testing can help you identify what works best for your audience. Lucky Orange is an app that offers a suite of conversion optimization tools, including A/B testing, heatmaps, and session recordings. With Lucky Orange, you can see how visitors interact with your site and make data-driven decisions to improve your user experience and increase conversions.
Plug-In SEO for SEO
Search engine optimization (SEO) is a critical component of any e-commerce strategy. Plug-In SEO is an app that helps you optimize your website for search engines by identifying and fixing issues that can affect your rankings. With features like automated SEO checks, meta-tag optimization, and broken link detection, you can ensure that your website is properly optimized for search engines.
Heyday for Chat & FAQ Automation
Providing exceptional customer service is crucial for building customer loyalty and driving repeat sales. Heyday is an app that allows you to automate your customer service by integrating with popular chat platforms like Facebook Messenger, WhatsApp, and Shopify Chat. With Heyday, you can answer customer questions, provide personalized recommendations, and offer support 24/7. Heyday also offers a chatbot feature that can handle common customer inquiries and free up your team's time.
Route for Protection & Tracking
Shipping can be a major headache for e-commerce businesses, with lost or damaged packages leading to unhappy customers and lost revenue. The Route is an app that provides package tracking and protection for online orders. With Route, you can offer customers the option to add shipping protection to their orders, ensuring that they are reimbursed if their package is lost, stolen, or damaged during shipping. Additionally, Route offers package tracking and delivery notifications to help you keep your customers informed and satisfied.
Loox for Product Reviews & Photos
Collecting customer reviews is vital for a business which helps businesses to know how their consumers feel about the products and what they should improve to make the products better. Loox is a product review and photo platform that allows businesses to collect customer reviews with photos and showcase them on their website. With Loox, customers can easily leave reviews with photos of their purchased products, which helps build trust and social proof for the brand. The platform offers features such as automatic review request emails, customizable review widgets, and an AI-powered photo analysis tool to ensure the authenticity of the images. Loox also provides insights and analytics to help businesses understand their customers better and improve their products and services.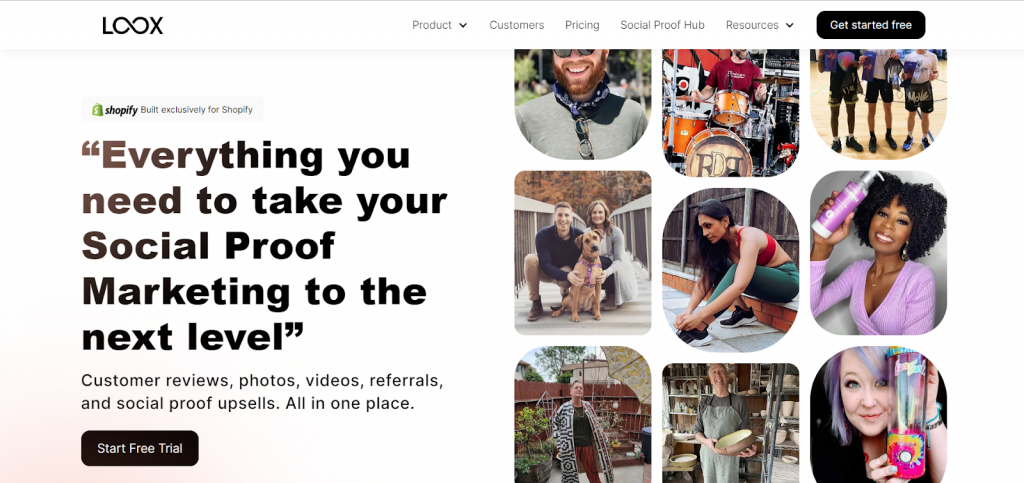 Best Practices for Implementing and Integrating Shopify Apps
Implementing and integrating Shopify apps into your business operations can be a game-changer, but it's important to do it right. We would like to share some best practices to follow here:
Test Before You Buy: Most Shopify apps offer a free trial period, so take advantage of it to test the app before you commit to a paid subscription.
Choose Apps That Integrate with Each Other: Choose apps that integrate with each other to avoid data duplication and streamline your workflow.
Train Your Team: Make sure your team is trained on how to use the apps you choose to maximize their effectiveness.
Monitor Performance: Monitor the performance of the apps you use regularly to ensure they're meeting your expectations and adjust as needed.
Final Words
Using Shopify apps can help grow your business by improving your website conversion rates, customer communication and support, inventory management, and sales analytics. By assessing your business needs and goals, identifying gaps in your current workflow, and researching and evaluating the right apps, you can take your Shopify store to the next level. We have discussed some of the must-have Shopify apps in different categories and provided best practices for implementing and integrating these apps into your business operations.
However, it's important to remember that the Shopify app ecosystem is constantly evolving, with new apps being added all the time. So, continue exploring and utilizing the Shopify app ecosystem to keep your business competitive and up-to-date with the latest technology trends.
Read Grow Your Online Store with the Best Marketing and E-commerce Tools